Directions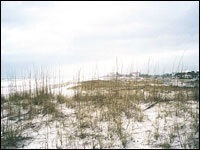 Portofino, An Exclusive Island Residence & Spa, is nestled in the white sands of Santa Rosa Island, Pensacola Beach. It is easily accessible from all directions, and yet is perfectly located for the ideal beach getaway.
From the Pensacola Regional Airport:
1) Exit airport onto Airport Blvd. Continue straight to Ninth Ave.( about ˝ mile).
2) At the traffic light (Ninth Ave.) make a Left onto Ninth Ave; continue about one-half mile to Brent (Route 296).
3) At the traffic light, make a Right onto to Route 296 (Bayou/ Brent).Travel short distance to Interstate 110.
4) Take Interstate 110 South to the last exit # 1-B "Route 98 East Beaches." Follow 98 East toward beaches and long causeway. At second light after exiting I-110, you will come to a "T (which is E.Chase/US 98 Bayfront Pkwy); make a Left at the second light and follow road onto long causeway bridge.
Causeway will take you into Gulf Breeze, Fl. You will still be on 98 East heading towards Destin/Pensacola Beach ( passing thru Gulf Breeze )
5) After you pass the high school, move to your right lane, look for the signs for Pensacola Beach.
6.) Exit to your right "Pensacola Beach-Scenic Beaches." This is a large neon sign and not easy to miss.
7) This will take you over another causeway onto Santa Rosa Island. Pay the $1.00 toll and continue straight; at traffic light bear Left on to Via de Luna. You will see the four-story pink and white Hampton Inn on your right and Flounder's Restaurant on your left.
8) Continue east four miles (from the Hampton Inn) on Via de Luna to Portofino.
The key to your room is located at the Sales/Rental and Homeowners' Association Office, the two-story building just pass Tower 1 (the 21-story building). The address for the Office is Ten Portofino Drive. The unit is in Tower 1 and is No. 1005. The key will be at the front desk with Abbott Realty.
If you have any questions, check with Shelia Ramsey or Bob Moore, Owner Relations Managers with Abbott, at (850) 916-5000 (Abbott's front desk). The direct dial number for the unit, No. 1005, is (850) 916-2355.
Directions From the West (New Orleans/Mobile):
1) Take Interstate 10 East heading toward Florida.
2) Shortly after entering Florida, you will exit onto Interstate 110 South (which is exit #12 off of I -10).
3) Continue on Interstate 110 South and follow steps 4) to 8) above.
Directions From the East (Jacksonville/Tallahassee):
1) Take Interstate 10 West heading toward Pensacola and Mobile, Al.
2) Continue on Interstate 10 to Interstate 110 South and follow steps 4) to 8) above.