Welcome to One Portofino Drive No. 1005!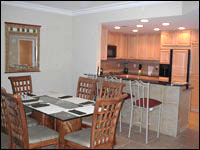 Portofino, an "Exclusive Island Residence & Spa" is a resort destination located in Santa Rosa Island on 29 acres of pristine rolling dunes, surrounded by incredible sea views on one side and a shimmering bay on the other. To the east of Portofino is an 11-mile undeveloped seashore preserve and some of the most magnificent beaches on the Gulf Coast (if not all of the U.S.). To the west of Portofino (about four miles) is Pensacola Beach, with its fine seafood restaurants, boardwalk, fishing pier, and shopping.
One Portofino Drive No. 1005 is located on the 10th floor of Tower 1 of Portofino. Unit # 1005 is a new (February, 2003 ) Tower Residence that offers the following features:
Two bedrooms: two modern bedrooms, each with nine foot dual sliding glass doors leading to the balcony;

Master bedroom: master bedroom with a king-size bed, with his and hers closets and dressing areas;

Master bath: master bath with walk-in shower and designer tub with whirlpool;

Guest bedroom: guest bedroom with two twin beds and full bathroom;

Modern kitchen: Kitchen with designer-style cabinets, conventional oven, built-in microwave, dishwasher, and recessed lights;

Washer/dryer in unit: large capacity washer and dryer in unit;

Sleeps six: pull-out couch that comfortably sleeps two (the unit sleeps six max);

Tiled floors: dinning room and surrounding area with designer ceramic tile flooring;.

Balcony: balcony with tempered glass railings, allowing for unobstructed views;

1,503 sq. ft.: total square footage of 1,503; (This two-bedroom unit is as spacious as many three-bedroom units on the Gulf Coast;)

Platinum furnishings: unit is furnished up to "Platinum" level standards as required by rental agencies.
In addition to all of the above, as guest of the Owner, you will have assigned garage parking, just perfect for those 95 degree days or the occasional heavy thunderstorm.
Welcome to One Portofino Drive No. 1005….. We know you will love it!